1.
Calm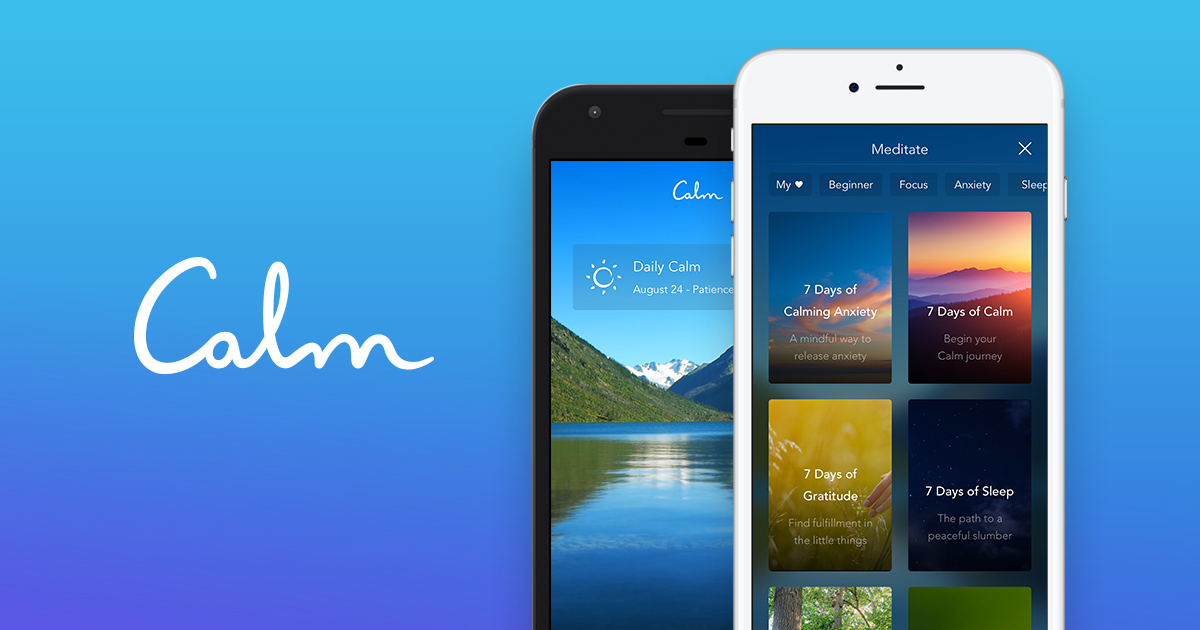 Photo from calm.com
Calm helps you Relax, Improve Concentration, Sleep better, Relieve Stress. When you register, you get a 7 days free trial and if you like the app you can continue to paid subscription. The app has a library of sounds and scenes which you can use. The app allows one button access to berating exercises and sleep stories. You can select sessions between 3 minutes, 5 minutes, 10 minutes, 15 minutes, 20 and 25 minutes.
Features
Daily Calm : a new program added every day.

Unguided Timed Meditation.

20+ Nature sounds and Scenes that one can use while meditating.

Sleep Stories : Stories narrated to help you fall asleep.

Various Breathing Exercises that help you relax.

Download The App or Visit The Site
2.
Sleep Cycle
Image from youtube.com/AppleUpdatez (channel/UCSxq2IOLnNBhb9Quvnbvpbg)
How it works :
Quote:Sleep Cycles

While you sleep, you go through cycles of sleep states. The first state in a sleep cycle is light sleep, followed by deep sleep and a dream state referred to as REM-sleep. A full sleep cycle lasts about 90 minutes and is normally repeated several times each night.

Sleep Cycle alarm clock

Your movements vary with each sleep phase. Sleep Cycle uses sound analysis to identify sleep states by tracking movements in bed. Sleep Cycle uses a wake up phase (30 minutes by default) that ends at your desired alarm time. During this phase Sleep Cycle will monitor signals from your body to wake you softly, when you are in the lightest possible sleep state.

Find more here https://www.sleepcycle.com/how-it-works/



From the official website
                                                           photo from mylesapparel.com
In simple words this app helps you to track your sleeps, it shows you when you were awake during the night, it also tells you when you were in deep sleep. The app also tells you the quality of sleep you had and what are the factors affecting your sleep.
Download the app :
3. Obino
                                    Photo from Obino.in
Obino is a real time diet coach. It reminds you when to eat your meals, drink water, take a walk etc.The app has Indian meal-recommendation engine, e-diet plan generator,  a calorie counter and a pedometer. The app also offers personal fitness coach, nutrition experts. The app has personalized insights and analysis of your Food & Exercise habits and  medically-approved Indian Diet Plans (Premium feature only).
Download the app
Alternative International Apps
MyFitnessPal
Noom Coach